History of Richards of Burton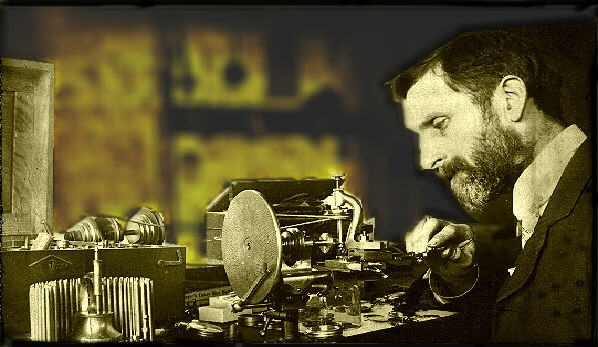 Mr. Thompson cutting a Longcase great wheel on a watch lathe Circa 1910 (upstairs at the Borough Road shop this photo was used in the Hursts catalogue).
Richards of Burton in its present form started in 1976 as an offshoot of H. J. Richards (jewelers and antique dealers) of Burton-on-Trent, but can trace its roots back to 1896.
Mr. J.W. Bailey started the company in Borough Road, Burton in 1896 (his brother started another Jewelers in Burton which only closed a few years ago). Mr. H. J. Richards worked for Mr. Bailey Before the first world war, and then went to work on munitions production in Coventry for the duration, returning to the Borough road shop at the end of the war.
Mr. H.J. Richards once told me that when he was an apprentice Mr. Bailey still had a wheel cutting engine and other equipment which he bought from another local firm, Smith of Walton-on-Trent, to help him start his business. (It is interesting to note that Smith senior worked for the firm of Rea in Walton which can be traced back to the mid 18th century.)
After the First World War Mr. H. J. Richards bought the business which he ran for many years, being joined by his son John who was later joined by his son Andrew, the present proprietor of the Jewelers, H. J. Richards & Son.
The early sixties saw the opening of a second shop in the Abbey Arcade in Burton on Trent. I was apprenticed to John Richards in 1966 at the age of fifteen and attended college in Birmingham and studied under Anthony Randle and David Evans (Ex head of Chronometer department Royal observatory Herstmonceux) and working part time for the English clock specialist and cutter maker Philip Thornton at Great Haywood near Stafford. In the early 1970s we were finding it difficult to get castings and hands for longcase clocks so we started to manufacture parts (I think our first advert had 6 castings and 3 pairs of hands to over two hundred castings now) also the lease ran out on the Borough Rd shop and it was closed.
Richards of Burton was set up as an off shoot in Oct 1976 By John Richards and myself (Chris Lowe). Working in the back of the Abbey Arcade shop which soon became too cramped and in 1979 we moved to an old Church of England mission chapel which is built in 10ft sections of corrugated iron sheets with a wooden lining this one being of 1913 vintage. We spent some months making it suitable for use as a workshop, and moving equipment from our garages where it had been stored and in some cases used.
Having equipped ourselves with machines from clock making firms which have closed, the business has evolved from just repairing clocks, we now produce fine castings, hand made clock hands, clock winding keys, wheels and pinions and in fact are in a position to make most parts for English clocks and many others.